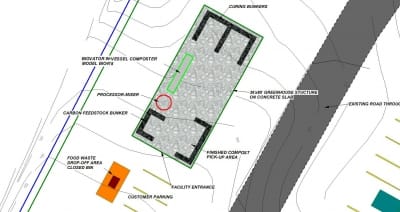 As part of CCRD's commitment to achieve waste diversion targets set out in our Solid Waste Management Plan, planning is underway for a small centralized composting facility located at the Thorsen Creek Waste and Recycling Centre. The proposed facility will maximize beneficial use of waste materials and preventing organics from entering the waste stream whenever possible. Public access to composting will also help residents reduce wildlife attractants on private property. Currently, compostable materials make up about 26% of the waste stream at the Thorsen Creek Landfill. 
At the heart of the proposed facility is the Biovator in-vessel style composter. Essentially the Biovator is a long insulated culvert that slowly rotates and allows significant heat to build inside the composter. Originally designed to compost animal carcasses, the Biovator can handle most types of food waste and has been used with success elsewhere in Canada. The in-vessel style composters limit the smell issues often associated with large open air composting operations.
A drop-off station will be set up to accept food waste from the public, after which it will be blended with carbon feedstock (woodchips or other suitable carbon source) and introduced into the Biovator for composting. Two weeks later, compost is collected out the end of the Biovator and placed in curing bunkers to finish the process. The CCRD hopes to make the finished compost available for sale, however this will be subject to CCRD achieving regulatory compliance to sell a finished compost product. 
As part of Goal 1 of its Solid Waste Management Plan, CCRD intends to provide a community composting program at the new Eco-Depot and Transfer Station.   Some of the highlights of this program include:
Undertaking a feasibility study for organic waste composting
Collaborating with Nuxalk Nation on composting of biosolids
Designing and constructing a small-scale basic compost building
Purchasing or leasing necessary equipment to prepare feedstocks and aerate compost piles
Developing a drop-off program for compostable waste
Incorporating wildlife conflict mitigation measures into compost operations