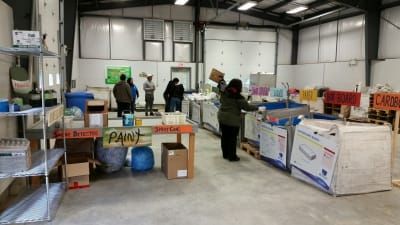 Thorsen Creek Recycling Depot is a one-stop recycling centre located at the Thorsen Creek Waste and Recycling Centre (751 Thorsen Road), between Bella Coola and Hagensborg.
Hours of Operation
Wednesday 8:30am- 5:30pm
Saturday 8:30am- 5:30pm
Contact: 250-799-5291 or info@ccrd-bc.ca
Thorsen Creek Recycling Depot accepts more than 30 different categories of items for recycling and is a drop off facility for most provincial Product Stewardship Programs.
Our Recycling Depot is staffed by a friendly recycling attendant who is available to asist customers.
All recyclables are shipped to the lower mainland for processing. We currently ship approximately one (1) semi-trailer load per month.
Ready-to-drink beverage containers can be recycled three ways:
Return to the local Return-It Depot for a refund.
Donate to local community organizations.
Include with other recyclable containers at the Thorsen Creek Recycling Centre. NO Deposit Refund.
Below is a list of recyclables accepted for free at our depot. Please note that rims must be removed from tires, or a $5.00 charge will be applied for each rim. Commercial-size tires are not part of the free recycling program and are subject to a charge based on size.
FREE RECYCLING

SERVICES


ALL ITEMS SHOULD BE CLEAN AND

SORTED
Paper (plain or coloured) residential

only

Newspaper

Magazines

Catalogues

Phone

books

Envelopes

Flyers

Junk

mail

Household

paper

Flammables (must be in approved

containers)

Liquids

only

Paint

thinners

Other

solvents

Camp

fuels

Liquid adhesives with flammable

symbol

Other flammables or solvents that have the flame symbol or wording similar to "keep away from open spark or flame"

Box Board (egg cartons, cereal boxes, Kleenex boxes, etc) Residential only

Cartons & Paper Cups – Residential

only

Milk

cartons

Ice cream

containers

Cardboard containers that had liquids in

them

All returnable Ready to Drink Beverage Containers

,

with

deposit. (NO Deposit Refund)

Glass (eg. wine & beer

bottles),

Tetrapaks (eg. juice

containers

Plastic or aluminum beverage

containers

Milk

cartons

Milk

jugs

Juice

jugs

Plastic Containers – Residential

only

Milk

jugs

Juice

jugs

Detergent

jugs

Shampoo

containers

Yogurt

containers

Plant

pots

Small Appliances

Microwaves

Toasters

Coffee

makers

Glass containers – Residential

only

Household Paint & Paint

cans

Metal

Containers

Soup

cans

Dog and cat food

cans

Household Herbicides &

Pesticides


Look for skull & crossbones and Pest Control Product Number (PCP)

Film

Plastics

Plastic overwrap from furniture

etc.

Plastic bags from stores, bread bags

etc.

Gasoline in approved ULC containers

only

Styrofoam – white or coloured ‐

residential

Oil, filters, containers

etc.

Electronic Goods (TV's,

stereo's)

All electric devices (plug‐in or battery

operated)

Electronic

toys

Industrial and Marine

Batteries

Rechargeable Household

Batteries

Non‐rechargeable

Household

Batteries

Non‐Ferrous Metals (aluminum , copper, brass, lead and zinc)