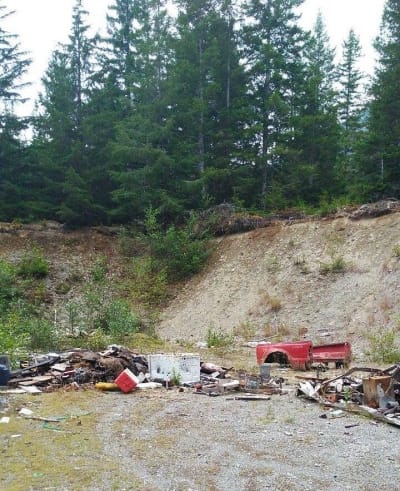 Illegal dumping is an environmental violation in the Province of British Columbia, and is enforced by provincial legislation.  If you witness any act of illegal dumping, please immediately call the RAPP line at 1-877-952-RAPP or report it online.
A part of CCRD's commitment to reducing illegal dumping in our region and encourage appropriate use of the landfill, the Solid Waste Management Plan outlines several action steps which will be taken over the next several years.
Many community members step in to volunteer their time to clean up illegal dumps and pick up garbage found up various side roads. The illegal dump shown in the photo to the right was located up the east side of the Salloompt Valley in an old gravel pit. In 2016 while conducting logging operations in the vicinity, Bella Coola Community Forest Ltd. donated their time and equipment to clean up the site.  
As well, for the past several years, the CCRD has hosted an annual valley-wide clean-up event.  For 1-2 weeks each year, tipping fees at the Eco-Depot and Transfer Station have been reduced by 50% for valley residents.  During the 2 week clean-up, the Nuxalk Nation has invited members to clean up their properties and sends crews around the reserve to collect the piles of debris left in members driveways.